Jordana Moore Saggese Appointed Director of UMD's David C. Driskell Center
April 14, 2023 David C. Driskell Center for the Visual Arts and Culture of African Americans and the African Diaspora | Art History and Archaeology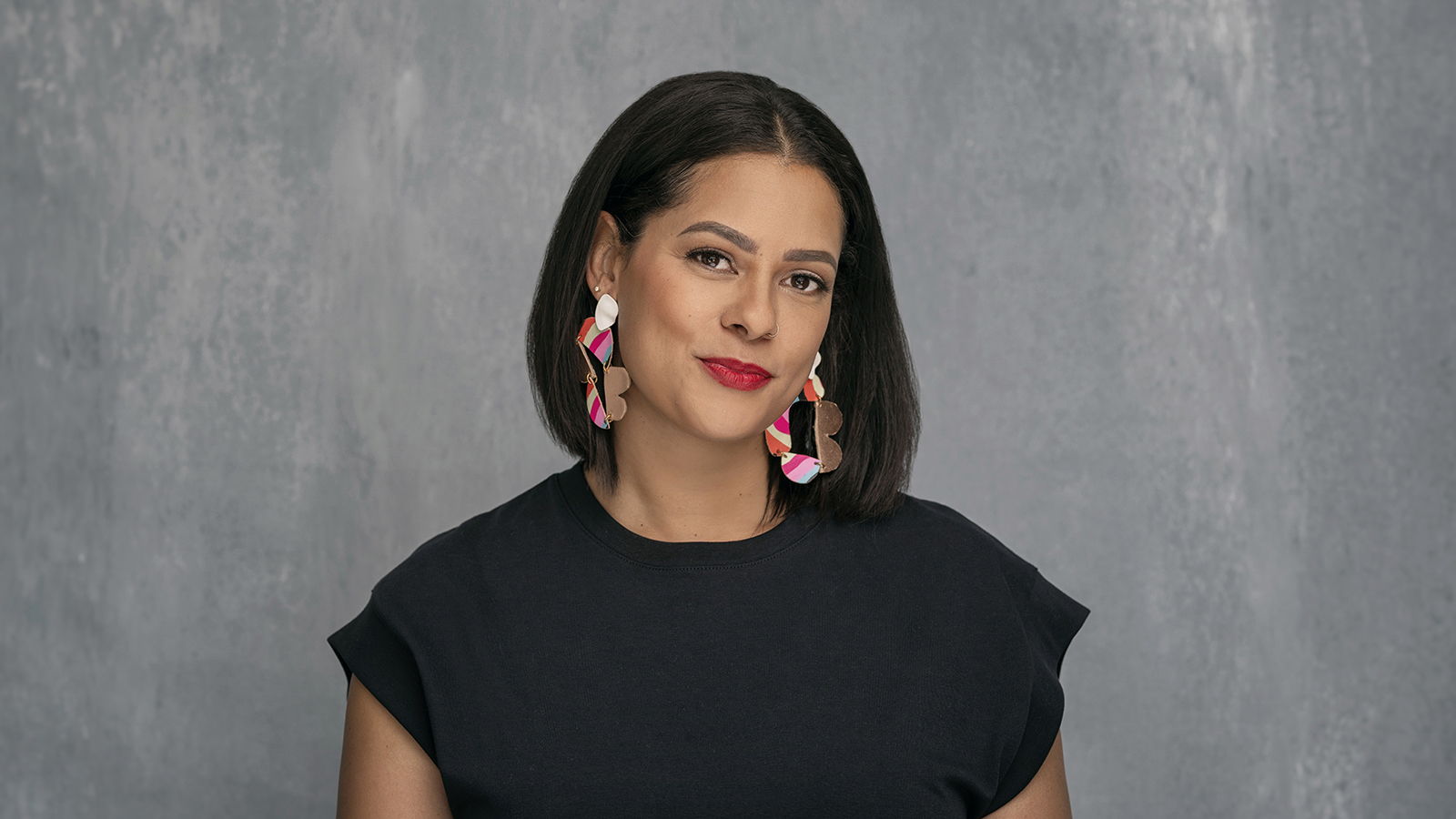 Professor of American Art hopes to raise the Driskell Center's profile and find new ways for the public and campus community to engage with its resources.
By Jessica Weiss '05 
Professor of American Art Jordana Moore Saggese has been named the next director of the University of Maryland's David C. Driskell Center for the Visual Arts and Culture of African Americans and the African Diaspora, renowned for the collection, documentation and presentation of African American art. 
Effective July 1, 2023, Saggese will work to advance the center's mission to honor the legacy of the late David C. Driskell—legendary artist and Distinguished University Professor recognized globally for his original scholarship and expertise in African American art—by preserving and showcasing the rich heritage of African American visual art and culture. Saggese succeeds Curlee R. Holton, an artist and longtime collaborator of Driskell, who has worked in an administrative capacity at the Driskell Center for over 10 years. 
Saggese brings to the role a body of scholarship in African American art history, a passion for teaching the next generation of scholars and making elements of her scholarship accessible to the public, as well as varied administrative experiences that prime her to lead the center and expand its impact.
"To find someone with all of these characteristics is rare, and Professor Saggese fits that," said Holton. "We are confident she will move the center in a strong institutional, academic and scholarly direction and into a fuller vision for the future." 
Driskell is best known for his groundbreaking 1976 exhibition "Two Centuries of Black American Art: 1750-1950," offering the first comprehensive survey of African American art. He joined the art faculty at the University of Maryland in 1977. 
Since its creation in 2001, the Driskell Center has come to be known internationally as an intellectual home for artists, museum professionals, art administrators and scholars who are interested in broadening the field of African diasporic studies. In addition to holding thousands of works of art by African American artists, it houses Driskell's archives, a public collection of more than 50,000 documents including photos, letters, handwritten notes and catalogs, donated by Driskell and his wife, Thelma Grace Driskell. The collection offers a glimpse into his relationship with major artists like Romare Bearden, Jacob Lawrence, Betye Saar and Georgia O'Keefe. 
Saggese, a researcher of modern and contemporary American art with an emphasis on expressions of Blackness, first met Driskell on a visit to the center in 2008, while she was a Ph.D. student in modern and contemporary art history at the University of Illinois at Urbana-Champaign. She credits Driskell's mentorship and his presence at the University of Maryland for drawing her to the university 10 years later. 
"David was among the first to write the history of African American art; he is a legend in our field," she said. "For that reason and so many more, this is an incredibly rewarding opportunity for me." 
As a scholar, Saggese has worked in myriad ways to broaden the field of art history to give a more prominent voice to the contributions of non-white artists, and to bring that message to a broader public. She is an internationally-recognized expert on the work of the American painter Jean-Michel Basquiat (1960-88) and has published two books on his life and work: "Reading Basquiat: Exploring Ambivalence in American Art" and "The Jean-Michel Basquiat Reader: Writings, Interviews and Critical Responses." She also previously served as editor-in-chief of Art Journal, a publication of the College Art Association; she was the first Black woman in the journal's more than 80-year history to serve in that role.
At UMD, she serves as interim chair of the Department of Art History and Archaeology (and first Black chair), while advising and mentoring a growing cohort of graduate students. Her teaching is informed by her interests in the history of photography, print culture, abstraction, conceptual art, performance art, post-colonial theory and disability studies. She offers undergraduate courses in American art, African American art and critical race art history. 
She has also engaged with and involved the Driskell Center's collections in her teaching, which she called an "incredible resource" and "key institution" for studying African American art. Last semester, graduate students in her "Blackness in Relief" seminar developed and curated the Driskell Center's current exhibition "RINGGOLD | SAAR: Meeting on the Matrix," which opened on January 26 and runs until May. The exhibition has received widespread recognition, with Forbes crediting the students for "achieving what some never do in a lifetime" and the Washington Informer calling it a "history-making exhibition."
Saggese said she is looking forward to further raising the center's profile while finding new ways for the public and campus community to engage with its resources. 
"My goal is to capitalize on the incredible international reputation the center has at a moment when there is increased attention on the importance of research in Black studies and Black culture, and on the contributions of African American artists," she said. "It's an extremely exciting time to come on board." 
College of Arts and Humanities Dean Stephanie Shonekan expressed her thanks to Holton for his extensive service and said she is excited for the center's next chapter—one that will position it for new offerings and facility enhancements. 
"We are incredibly proud of the work that the Driskell Center does to nurture, support and celebrate African American art," Shonekan said. "Professor Saggese will do a phenomenal job in continuing to celebrate David C. Driskell's legacy and leading the center's evolution."
Top image is of Jordana Moore Saggese. Second image features Curlee Holton and David C. Driskell working in studio.