Research in art history and archaeology is an interdisciplinary enterprise.
Engaging diverse theoretical frameworks and research methods, our faculty produce innovative scholarship in the form of books and articles, digital projects, museum exhibitions, public lectures and more. Our faculty lead national networks and conferences (including the Archaeological Institute of America and the College Art Association), providing innovative research frameworks and making significant contributions to UMD's research enterprise.
Events Feed
Sorry, no events currently present.
Rethinking the Curation of Chinese Contemporary Art: Toward "post-West" artworlds, political economies, spatial practices, and historiographies
International Virtual Conference
Art History and Archaeology
I have co-organized this international virtual conference with colleagues at the University of New South Wales in Australia; the conference will be held virtually on April 28, 2021 with the support of the Asia Society, Sydney and the Center for East Asian Studies at UMD. Since the end of the 1980s, contemporary art produced by artists of Chinese cultural identity has been exhibited internationally in accordance with Westernized curatorial discourses and practices associated with the White Cube and its postmodernist/contemporary variants. This symposium will intervene critically with those discourses and practices by exploring the possibility of alternative approaches to the curation of a culturally Chinese contemporary art. The symposium will bring together scholars as well as critics, artists, curators, and architects/designers who will be invited to respond critically to the symposium's theme with reference to their particular professional experiences and concerns. In addition to presentations by the symposium's co-organizers and invited speakers, ample time will be given for collective discussion and responses to audience questions. The co-organizers will seek to publish a peer-reviewed edited collection related to the theme of the symposium.
Visceral Responses: Unexplained Expressions of Astonishment, Disbelief and Marvel in Poussin's Martyrdom of Saint Erasmus
This article shows that Poussin's altarpiece of St. Erasmus (1628) for St. Peter's Basilica, Rome, is not merely a portrayal of the saint's martyrdom, but actually embodies a complex symbolic conceit involving the likening of Erasmus's disembowelment to
Art History and Archaeology
Anthony Colantuono's article titled "Visceral Responses: Unexplained Expressions of Astonishment, Disbelief and Marvel in Poussin's Martyrdom of Saint Erasmus" proceeds from the observation that in Poussin's famous altarpiece of 1628 (Vatican Museums), the pagan men who are shown in the act of disemboweling the saint exhibit unexpected facial expressions and bodily gestures, seemingly designed to express the unexpected sentiments of astonishment, disbelief and marvel or wonder -- as opposed to the expected expression of simple hatred and cruelty. Colantuono shows that these expressions are explained when we realize that the artist has added iconographic details designed to imply an analogy between the saint's disembowelment and the pagan religious ritual of haruspicy -- the practice in which the ancient Romans would examine the entrails of sacrificial animals in order to perceive the future. Colantuono argues that Erasmus's torturers are examining the entrails and in them foresee the end of paganism and the future triumph of Christianity.
The Jean-Michel Basquiat Reader: Writings, Interviews, and Critical Responses
The first comprehensive collection of the words and works of a movement-defining artist.
Art History and Archaeology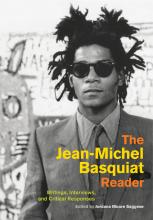 Jean-Michel Basquiat (1960–1988) burst onto the art scene in the summer of 1980 as one of approximately one hundred artists exhibiting at the 1980 Times Square Show in New York City. By 1982, at the age of twenty-one, Basquiat had solo exhibitions in galleries in Italy, New York, and Los Angeles. Basquiat's artistic career followed the rapid trajectory of Wall Street, which boomed from 1983 to 1987. In the span of just a few years, this Black boy from Brooklyn had become one of the most famous American artists of the 1980s. The Jean-Michel Basquiat Reader is the first comprehensive sourcebook on the artist, closing gaps that have until now limited the sustained study and definitive archiving of his work and its impact. Eight years after his first exhibition, Basquiat was dead, but his popularity has only grown. Through a combination of interviews with the artist, criticism from the artist's lifetime and immediately after, previously unpublished research by the author, and a selection of the most important critical essays on the artist's work, this collection provides a full picture of the artist's views on art and culture, his working process, and the critical significance of his work both then and now.
Read More about The Jean-Michel Basquiat Reader: Writings, Interviews, and Critical Responses
"Writing Black Archives: African-American Art History in Real Time"
Session at the CAA Annual Conference (online) co-organized with Sarah Elizabeth Lewis, Harvard University, and moderated by Nicole Fleetwood.
Art History and Archaeology
This session further explores the challenges and the potential within writing African American art history in the absence of archives. Of particular interest is the reclamation of overlooked histories as reparative gestures. Each presentation reveals the historic failures of the discipline to recognize black artists, as well as the deep tensions one must confront working with artists and their estates. We also consider the labor that goes into archive-building projects. Such work does not qualify as original scholarship under the requirements for academic promotions, and institutional commitments to building these archives and collections are often temporary. We ask, therefore, not only what it means to perform this work, but what are its consequences.
"David Jonsson on Jean-Michel Basquiat"
On the podcast biographical series produced by BBC4 artists choose someone who has inspired their lives.
Art History and Archaeology
Andy Warhol was his friend and collaborator, Madonna a one time girlfriend and David Bowie a huge admirer. But beyond this club scene personality raged a prolific artist, writer and musician. During his short career Basquiat created no less than 1000 drawings, 700 paintings and many sculpture and mixed media works. In 2017 he became one of a handful of artists whose work broke the $100 million mark. His life challenged the boundaries of 'blackness' but also the boundaries of American art. In this episode of Great Lives he is championed by actor David Jonsson best known for his work on 'Deep State' and 'Industry'. He has described Basquiat's life as both an inspiration and a cautionary tale. He is joined by Jordana Moore Saggese, Associate Professor of American Art at the University of Maryland College Park and author of two scholarly books on Jean-Michel Basquiat.
Chinese Calligraphy and Painting Studies in Postwar America
The book has grown out of papers presented at a conference held in 2018 at UMD (supported by a grant from the Henry Luce Foundation).
Art History and Archaeology
In recent years, we have mourned the deaths of many of the most prominent scholars in Chinese calligraphy and painting working in the United States. Many other scholars have retired. It is time for us to celebrate their scholarship and the American contribution to the study of Chinese calligraphy and painting. The present volume examines critically the historiography of the field of Chinese calligraphy and painting in Postwar America, to assess its achievements, and to explore how various practices in the field have been affected by the personal backgrounds of its scholars and by the constraints of its institutions (such as universities, museums, private and public funding bodies).

Praise
"Historiographical studies, personal reminiscences, and autobiographical accounts by eight leading scholars of Chinese art history present a vivid picture of how formative figures in the field shaped American understanding of Chinese art. These accounts of what was accomplished in the decades after WWII, accompanied by suggestions for the future, are invaluable readings for students and scholars alike." Julia F. Andrews, Professor of Art History at The Ohio State University; author of Painters and Politics in the People's Republic of China and co-author (with Kuiyi Shen) of The Art of Modern China.



"This remarkable collection of essays by outstanding authorities celebrates some of the influential personalities who have shaped the field of Chinese art. They give a kaleidoscopic view of the diverse ways in which knowledge of Chinese art is acquired and transmitted." Alfreda Murck, author of Poetry and Painting in Song China: The Subtle art of Dissent, and co-editor (with Wen C Fong) of Words and Images: Chinese Poetry, Calligraphy and Painting.




"Chinese Calligraphy and Painting Studies in Postwar America: New Perspectives presents a collection of eight unique essays by experts in the field. It examines the trajectory of academic research on Chinese art history in the United States, which in recent years has become the center of the field. The book offers an opportunity to engage with the latest scholarship on Chinese art and discover how it arrived at its current state. The wide-ranging and insightful essays include historiographies of art historical research, veteran art historians' vivid memories of firsthand research experiences, biographical and scholarly investigations of major players in the field, and the systematic analysis of path-breaking explorations conducted by U.S. scholars. In reading, we are reminded how closely Chinese art history is connected to our own time and place. The book liberates the history of Chinese art from hackneyed narratives anchored solely in historical past and geographical confines, while providing a compelling account of how the history of art history has itself become a new avenue of academic pursuit." J. P. Park is the June and Simon Li Associate Professor in the History of Art and Fellow of Lincoln College, University of Oxford; author of Art by the Book: Painting Manuals and the Leisure Life in Late Ming China and A New Middle Kingdom: Painting and Cultural Politics in Late Choson Korea (1700-1850).
Independent Scholarly Research and Creativity Award
An award from the University Provost and the Vice President for Research to support my third book project "Game On: Boxing, Race, and Masculinity"
Art History and Archaeology
Book Project: The concept of race organizes our national, political, and social lives. Yet its legibility depends almost exclusively on visual perception. The images of Black men that circulate in the public sphere often function to shore up ideologies around both race and masculinity. Drawing connections between sports history and visual studies, Game On: Boxing, Race, and Masculinity maps the visual terrain of racist ideology in the United States, paying particular attention to the intersecting discourses of Blackness, masculinity, and sport. Game On uniquely brings together a unique social history of the white middle class in the late nineteenth century, combining a history of boxing in the United States with a visual history of images and objects from this period to produce an analysis of the racist and gendered stereotypes these representations produce. This book shows how images of Black male athletes play a key role in building, modifying, and even naturalizing constructs of race and gender for twentieth- and twenty-first-century audiences.
Read More about Independent Scholarly Research and Creativity Award
"A Conversation with Peter Williams"
Artists' Legacy Foundation presents a conversation between 2020 Artist Award recipient Peter Williams and Dr. Jordana Moore Saggese, associate professor of American art at the University of Maryland.
Art History and Archaeology
This talk was part of the award ceremony for the Artist Award, granted by the Artist Legacy Foundation to recognize and honor accomplishments of an outstanding visual artist whose primary medium is painting or sculpture.
"Basquiat's Currency: Art, Blackness, and the Market"
Invited paper for the conference "Political Values, Market Values, Art Values: The Ethics of American Art in the 1980s."
Art History and Archaeology
While few have questioned Basquiat's status in the international art market, scholars have yet to determine the degree to which this has eclipsed his relationship to the critical "canon." This lecture considers Basquiat's engagement with the market, or more explicitly, his interrogation of the relationship between commercial and critical success. As an artist whose career closely followed the explosive trajectory of the 1980s bull market, Basquiat was caught on the wrong side of a critical debate that privileged the de-commodification of the art object. Through a careful analysis of the artist's works and methods I frame Basquiat's appropriative impulses and his obsession with the signs and symbols of commodification as part of a larger interrogation of the relationship between international market appeal and critical acclaim. Moreover, I argue that the work of Jean-Michel Basquiat encourages us to consider the specificity and the complexity of contemporary modes of recognition and success in a global art history whose parameters are increasingly defined by the art market.
Read More about "Basquiat's Currency: Art, Blackness, and the Market"
Giorgione's Tempesta in Iconological Perspective: Pierio Valeriano, Giovanni Cotta and the "Paduan Hypothesis"
This article shows that Giorgione's famous painting, the 'Tempesta' (ca. 1509), was conceived as a form of political discourse similar to Jacopo Sannazaro's Arcadia, and incorporates political-discursive tropes deriving from the hieroglyphic research of
Art History and Archaeology
Anthony Colantuono's article "Giorgione's Tempesta in Iconological Perspective: Pierio Valeriano, Giovanni Cotta and the 'Paduan Hypothesis' - shows that the famously problematic imagery of Giorgione's Tempesta is informed by a specifically political argument, probably conceived by the humanist Pierio Valeriano in the service of a member of the Vendramin family. Vindicating Paul H.D. Kaplan's seemingly forgotten 'political' interpretation (1986), Colantuono shows that the painting's imagery does indeed refer to the struggle between Venice and the Holy Roman Empire for control of Padua, in the context of the Cambrai wars. But Colantuono further demonstrates that the painting's imagery is composed of anti-Germanic tropes likening the invading imperial armies to Attila's Hunnish barbarians, who had similarly invaded the Venetian mainland in medieval times. it is shown that similar anti-Germanic imagery was employed by the poet Giovanni Cotta who, like Valeriano, was connected with the artist's patrons. Moreover, Cotta was connected with the Neapolitan poet Sannazaro, whose famous work, the Arcadia, probably provided Valeriano with the primary literary model for his iconographic invention. The larger point is that the correct application of iconological principles yielded a completely coherent interpretation of the painting's imagery, where other methods failed.
Read More about Giorgione's Tempesta in Iconological Perspective: Pierio Valeriano, Giovanni Cotta and the "Paduan Hypothesis"